So this post is actually long past due. I made this drawing like a month ago. Maybe even longer. The only reason why I'm posting it now is because I was cleaning off my desktop this morning and saw the file there wasting digital space.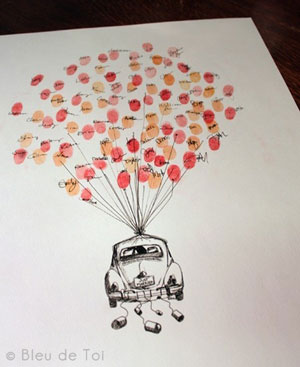 Today's post is a drawing I did for a friend's wedding. She found a cool idea online of making her guest book a big canvas with a balloon-themed drawing on it. The drawing was of a "Just Married" Volkswagon bug being lifted up by hundreds of different colored balloons. The special part was that the balloons were made out of the thumb prints of the bride and grooms' friends and family. I really like that metaphor. It means that a wedding isn't complete without those people most close to you to witness and support the union.
I think the idea was originated by some stalker who wanted the thumb prints of all their friends. :)
Well, after seeing the picture, the bride wanted something similar. Her idea though was to replace the car with a piano because the groom is such a good musician. I loved the idea so I quickly got to working.
My first drawing of them was based on the pianos and couple in my head. They were definitely in correct. The piano looked flat and mechanically unfunctional. The anatomy of the couple sitting at the piano looked contrived. It just wasn't good. I feel like if you want a really good drawing, you need to observe the real thing. Its like drawings are more of a translation of reality than they are an expression.
I decided to get my girlfriend, Kristina, and my roommate, Tony, to model for me sitting at Tony's piano. They were great models. They were patient, didn't move (much) and laughed with me when I stared at them so closely. Drawing from models made me actually start to miss my old life drawing class.
By the end of drawing my friends, replacing their heads with the bride and grooms' (using Facebook), and manipulating a little anatomy to fit their body types more, I created what I think is a good drawing. I hope you agree. If you do, or don't, leave a comment because I would love to hear your feedback.